DOKU.ARTS
Zeughauskino Berlin
06.–23.10.2016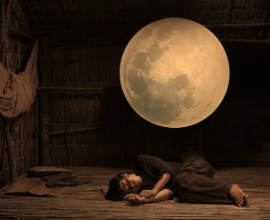 Exil
"A revolution knows no innocent audience". This statement opens the highly personal essay film by Cambodian director Rithy Panh, who at fifteen fled the Khmer Rouge to France, the only child from his family to survive. Panh's films revolve around the question of how to cinematically present a genocide for which there are no images.
At the centre of Exile is the young Panh, represented by the young actor Sang Nan. The inner monologue (voiced by Randal Douc) is interspersed with quotations from revolutionary writings, propaganda material and film clips, which serve to make the inner conflicts understandable. Exile resides in the emotional abyss that opens up between gullible adolescents' ability to understand and adults' reflexive vision. The archival images are interspersed with a range of other imagery ranging from surreal to realistic – always carefully arranged tableaux in which the actor acts as if on the theatrical stage.
"Exile is an abandonment, a terrifying solitude. In exile, one's self is lost, one suffers, one fades away. But it is also possible to find one's own, in the land of words, of images, in reverie that is more than childish. It all starts with exile, and nothing is anything without it. Exile is a meditation on absence; on inner solitude, geography, politics. Exile is also an attempt at elucidation on the part of a boy who lived in Democratic Kampuchea and the man he becomes who cannot accept injustice: What kind of revolution might we wish for? A revolution for and with humanity? A revolution that lives up to humanity, with respect and understanding? Or an attempt at destruction, the false purity of which has seen so many disciples, be it in Asia or the West?" – Rithy Panh
(sh)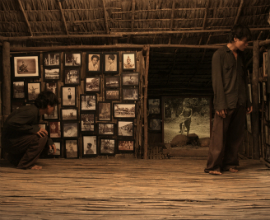 Rithy Panh
Cambodian director Rithy Panh (b. 1964, Phnom Penh) currently lives in France. In 1975 he was interned in Khmer Rouge rehabilitation camps and escaped to Thailand in 1979. In 1980 he arrived in Paris where he ultimately graduated from the Institut des Hautes Etudes Cinématographiques (IDHEC). He started his career by directing documentaries for which he received numerous prizes: Site II (1989), Cinéma de notre temps: Souleymane Cissé (1990), Cambodge entre guerre et paix (1992). In 1994, he directed his first fiction movie, Neak Srê,selected for competition at Cannes. In 1995, he was in charge of l'Atelier Varan in Cambodia. In 1998, his second feature film Un soir après la guerre was selected at Cannes Official Selection Un Certain Regard, as was his documentary L'image manquante in 2013 which was also nominated for an Oscar His other documentaries include Lumière sur un massacre: 10 films contre 110 000 000 de mines (1997), Van Chan, une danseuse cambodgienne (1998), and La Terre des âmes errantes (1999).