DOKU.ARTS
Zeughauskino Berlin
09.09.–27.09.2015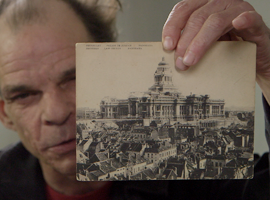 Austerlitz
Austerlitz, published in 2001, was the last major novel to issue from the pen of the Anglo-German novelist W.G. Sebald before his premature death, aged 57, in an auto accident. Like most of his fiction, a strong fascination with the recent tragic history of Europe is relayed, among other means, by a meditation on architecture, and on ruins. Famously, the pages of Sebald's books, including Austerlitz, are illustrated with mysterious uncaptioned black and white photos of buildings that may have been taken by the author, or else "borrowed" from anonymous archives.
Fascinated by these photos, and by a text that affects him personally, the independent filmmaker Stan Neumann here reconstructs the narrator's itinerary, taking us on a psycho-geographic journey from Antwerp to London, via Prague, Marienbad and Paris. At the centre of the mystery lies Terezin, the fortress town outside Prague that served as a staging post for deportees on the way to the Nazi death camps. A deeply autobiographical film, Austerlitz is noteworthy for Denis Lavant's haunting performance as the eponymous protagonist, along with stunning architectural photography, and one of the best scores in recent independent filmmaking.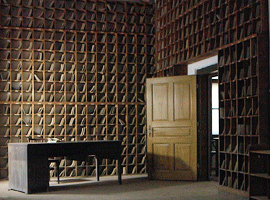 Stan Neumann
Stan Neumann was born and raised in Prague before moving to France to study and work as a film editor. In 1989, he began directing his own films, including Paris, roman d'une ville (1990), The Last Marranos (1991), Nadar, photographer (1994), A House in Prague (1997), Apparatchiks and Businessmen (2000), The Language doesn't lie, (2004), Stargazer (2009), and Austerlitz (2014). In addition to his own work, Stan has partnered with Richard Copans in the creation of the Arte film collection entitled Architectures, initiated in 1994. In 2008, Stan created another film collection for Arte entitled Photo.