DOKU.ARTS
Zeughauskino Berlin
09.09.–27.09.2015
Saving Mes Aynak
In Mes Aynak in southeastern Afghanistan lie the ruins of a millennia-old Buddhist monastery complex, a cultural treasure to rival Pompeii. So far only a fraction of the site has been excavated, with international assistance, yet unique finds have already come to light. Not only did major trade routes between Iran and China, India, and Afghanistan once cross here, but massive stores of copper deposits have been unearthed, worth some 100 billion dollars. The Afghan government has sold the mining rights for the area to the Chinese mining conglomerate MCC, to massive corruption allegations. The mineral exploiter is now just waiting on procedurals to start mining. The resulting mine crater threatens to erase several villages and completely destroy the ruins of the Mes Aynak. Residents have also come under threats from the Taliban, who are carrying out combat actions throughout the region.
Brent Huffman's vivid documentary records how the archaeologists struggle against time, land mines, and bureaucratic inefficiency. It also bears witness to the pride of the Afghan archaeologists, who want to preserve their cultural heritage, and juxtaposes imagery of them gently uncovering the Buddha images with fine sticks, brushes and cotton balls with the rabid explosions by the Taliban and the exclusively profit-driven interests of Chinese investors.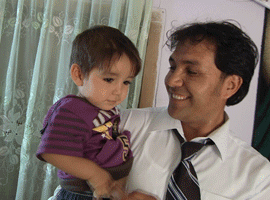 Brent E. Huffman
Brent E. Huffman is an assistant professor of journalism at Medill North Western University as well as a working documentary filmmaker. Huffman has directed, produced, written, shot and edited documentaries and long-form videos for a variety of outlets including The New York Times, The National Geographic Channel, CNN and Al Jazeera. Huffman's films and videos have gone on to win numerous awards including a Primetime Emmy, Best Documentary-Fresno, and three Cine Golden Eagle Awards. Huffman has been making documentaries examining life within China and China's recent push into Africa, Asia, and the Middle East.