DOKU.ARTS
Zeughauskino Berlin
09.09.–27.09.2015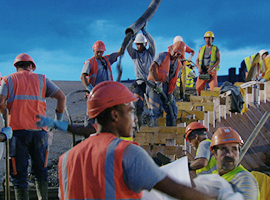 Le paysage intérieur
Pierre Maillard's film records the planning and construction of the ambitious new library and learning centre commissioned by the Ecole Polytechnique Fédérale de Lausanne, and designed and built by the Japanese firm SANAA (Kazuyo Sejima and Ryue Nishizawa) during the years 2007 through 2010.
This suave and elegant documentary benefits hugely by its director being in on the project from the outset, thus allowing him and his team to record all the major crises as they arose – and there were many: the innovative wave-like design posed major never-before-encountered construction problems. Indeed, at different periods, critics and sceptics declared it was impossible to build.
Films on architecture are rare which manage to combine as this one does attention to technical detail with a general lucidity about all aspects of the planning and building process. The liaison between the site and headquarters back in Japan fell on the shoulders of a young, scarcely-out-of-school architect named Yumiko Yamada, and it is she who guides viewers through the intricacies of the project, sometimes a little nervous herself about her ability to cope, but always professional and courageous.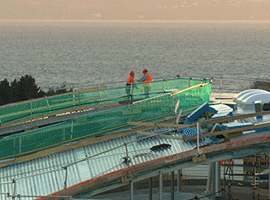 Pierre Maillard
Born in 1954 in Geneva, Switzerland, Maillard received a Bachelor's degree in literature before finishing a training in graphics and the performing arts in Geneva and London. From 1972 to 1978 he worked as an actor and a director in different "off" groups in Geneva and London. In 1983, Maillard founded Zoo Films. Since 1984 he has produced mostly feature-length films. Between 1987 and 1992 he directed numerous documentaries for RTS (French Swiss Broadcasting Service).