DOKU.ARTS
Zeughauskino Berlin
09.09.–27.09.2015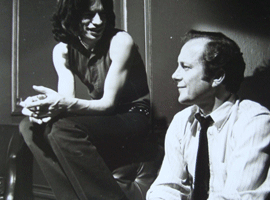 Nicolas Roeg: It's About Time
Nicolas Roeg enjoys an exceptional place in the annals of modern British film-making, first as a cinematographer (Far From the Madding Crowd, Lawrence of Arabia, Dr Zhivago) subsequently as the director or co-director of memorably idiosyncratic movies such as Performance (1970), Walkabout (1971), Don't Look Now (1973), The Man Who Fell to Earth (1976) and Bad Timing (1980).
Roeg has always had a fine touch with actors, eliciting memorably sexy performances from (among other modern icons) Mick Jagger, David Bowie and Julie Christie. His carefully crafted movies experiment in intriguing ways with the conventions of narrative cinema, for, among other skills, Roeg has always been a superb editor, lending his films – or the best of them – a brilliant mosaic-like quality.
This sense of mosaic (whether speeding up time, or putting it into reverse) has been captured in David Thompson's new essay on Roeg commissioned by the BBC to celebrate the director's 87th birthday. Thompson's documentary ranges across Roeg's career with a fine freedom, showing extended extracts from the films, and pausing to interview professional colleagues such as Danny Boyle and Mike Figgis who speak of him with admiration and discernment. At the centre of the film is Roeg himself, modest and articulate, still in his old age talking about a lifetime's commitment to cinema with rare conviction and enthusiasm.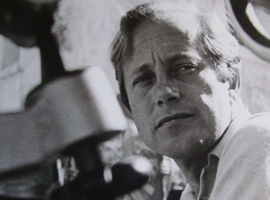 David Thompson
After graduating from Cambridge University, David Thompson worked in film distribution and exhibition before joining BBC Television as a film programmer. Following The Film Club series, he produced numerous documentaries on the arts, including the artist Mark Rothko and such film directors as Jean Renoir, Quentin Tarantino, Milos Forman, Paul Verhoeven, and Robert Altman. He has also edited the books Scorsese on Scorsese, Levinson on Levinson and Altman on Altman, and is a regular contributor to such magazines as Sight and Sound. In the USA he has made Musicals, Great Musicals and in France three contributions to the series on classic films, Il etait une fois (Notorious, In The Realm of the Senses and À nos amours). For BBC's long-running Arena series, he has made films on Roberto Rossellini, Ingmar Bergman and others.