DOKU.ARTS
Zeughauskino Berlin
09.09.–27.09.2015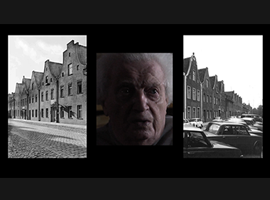 Friedrich Mielke: Discipline and Passion, the Science of Stairs
The passion of stair researcher Friedrich Mielke (b. 1921) was based on a physiological defect: he lost one of his legs in the war and hence was thereafter never spared difficulty when it came to a staircase. His life's work includes 30 books on stairs, an archive of 10,000 dossiers on stairs from all over the world, a slide library with about 35,000 images of stairs, a large stair model collection and countless drawings and photos of staircases and stair details. Architecture theoretician Stephan Trüby's first film reflects the history of stairs and questions their currently marginal existence as a "service provider" and "ground floor clown" in "flagship stores".
Mielke personifies scalalogy – "the science of interactions between humans and stairs, of foot and step" (Friedrich Mielke) – in a unique way. "In 1960, due to a serious car accident, he was permanently confined to a wheelchair. He began writing his first voluminous book on stairs, a history of German stairs published in 1966, while still in the hospital. Does Egon Friedell's thesis, posited in his 1927 Kulturgeschichte der Neuzeit, that behind every exceptional achievement in life there is always a physiological defect to which an overcompensation for imperfection can be traced, hold true?" (Stephan Trüby). Trüby and Tomas Koolhaas (DP) manage an impressive document of human devotion and a touching tribute to an exceptional researcher.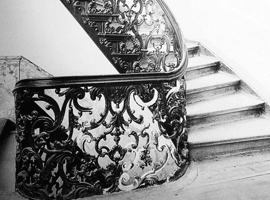 Stephan Trüby
Stephan Trüby is a professor of Architecture and Cultural Theory at the Technical University of Munich. He studied architecture at the Architectural Association in London and has held many teaching appointments, including Visiting Professor of Architecture at the Staatliche Hochschule für Gestaltung in Karlsruhe (2007-2009), Director of the Spatial Design postgraduate programme of the Zurich University of the Arts (2009-2014), and Lecturer at the Graduate School of Design at Harvard University (2012- 2014). Trüby was Research Director of the Venice Biennale of Architecture in 2014 and is a standing contributor to the magazines ARCH+ and archithese.