DOKU.ARTS
Zeughauskino Berlin
10.09.–12.10.2014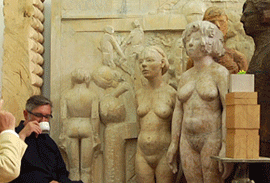 Fürchtegott Steinreich
"This is the story of a man who never took the direct route. A man who worked for others' success and in so doing forgot about himself." (Julia Alberti and Sandra Fiedler). The history of art recounts the stories of the successful, even if many are recognised as such only posthumously. Karl Böcker, known as Charly, now in his mid-70s, is someone who never made the major breakthrough – he was too much in the shadows of others, whose work he supported as an assistant. "Uphold graphic art", an art teacher had advised him when he started studying at the Düsseldorf Art Academy at the age of 45. Charly followed the advice and stayed true to graphic art – a craft that was soon relegated to the side-lines in a fast-paced era. A homage to an artistic life in Düsseldorf played out between Ratinger Hof and the Art Academy, brown ale and Afghanistan.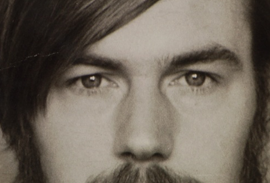 Julia Alberti
The artist and Düsseldorf resident Julia Alberti trained as a stone sculptor. She also creates experimental video installations – Kann heute nicht weg. Jukia ist aber hier ('Can't Leave Today. But Jukia Is Here') was shown at the 2008 Dresden Ostrale. Since 2010, Sandra Fiedler and Julia Alberti have been making short films together. In 2011, they were granted film funding for Fürchtegott Steinreich by the Filmlaboratorium der Filmwerkstatt Düsseldorf and the Filmstiftung NRW. They are currently working on the production of their new documentary Oromo, eine äthiopische Community ('Oromo, an Ethiopian Community').
Sandra Fiedler
Prior to her apprenticeship as an editor at the Deutsche Welle international broadcaster in Cologne, Sandra Fiedler worked as an assistant to various photographers in Düsseldorf. Since 1996, she has been working as a freelance editor for broadcasters Deutsche Welle, ZDF, WDR and Arte. She has also edited a range of award-winning documentaries, such as Fabelhaftes Langohr ('Fabulous Longears') (2003) which was nominated for a Grimme Award.