DOKU.ARTS
Zeughauskino Berlin
10.09.–12.10.2014
We hope to be back in 2022!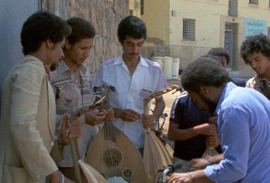 Trances (El Ha)
"Back in the early 80s, I more or less stumbled on a documentary called Trances, by a Moroccan filmmaker named Ahmed El Maanouni, about the band Nass El Ghiwane. I had never heard of the film or the band. I was immediately mesmerized by both. The music opened up a whole universe for me. It seemed absolutely modern and ancient at the same time. And its effect on Moroccan audiences, beautifully documented in the film, was fascinating. Nass El Ghiwane had the kind of direct connection with their listeners that you saw at certain rock concerts in the west, but it ran deeper than that. As I watched the film, it seemed to me that the band was actually singing their still newly independent nation, their people, their beliefs, their sufferings, their prayers. Of course, that's exactly what they were doing. Their profound connection to their audiences and their willingness to address taboo subjects made them controversial figures. Over the years, as I've come to know and love the nation of Morocco, I've gone deeper into the soul music of Nass El Ghiwane. It's opened my ears and my eyes, inspired me, moved me, and transported me. It's deepened my sense of the mystery of being alive. It's difficult to think of a higher compliment."
(Martin Scorsese)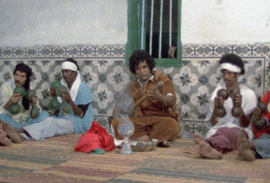 Ahmed El Maanouni
Ahmed El Maanouni was born in 1944 in Casablanca. He took degrees in Theatre Studies from the Université Internationale du Théâtre in Paris and Cinema Studies from the Université Paris VIII and the Institut National Supérieur des Arts du Spectacle et Techniques de Diffusion in Brussels. His films, including Alyam Alyam (1978) and Transes (1981), have won numerous international prizes. He has directed a number of documentary films, the latest being Conversations with Driss Chraïbi (2007), a portrait of Moroccan writer Driss Chraïbi.