DOKU.ARTS
Zeughauskino Berlin
10.09.–12.10.2014
Les Statues meurent aussi
"When men die, they enter into history. When statues die, they enter into art." With this statement, Chris Marker and Alain Resnais begin their 1953 essay film Les statues meurent aussi (Statues Also Die), which considers the ongoing effects of colonialism on European perceptions of African history and culture. Marker and Resnais' film focuses on Western commodification of traditional, Sub-Saharan masks and statues, as well as the exploitation of African labour and performance in the realms of industry, sports, music, and dance. Seeking to diverge from essentialist views of blackness, the film emphasises the underlying linkage of Africa and Europe: "There is no break between African and our civilisation. Faces of the African art are shed by the same human faces, like snake's skins." Commissioned by the French journal Présence Africaine and winner of the 1954 Prix Jean Vigo, Les statues meurent aussi was partially censored for a decade and not screened in its entirety until 1968—an indication of the precocity of its critique of colonial ideology at a time when France was involved in the Indochina War and also facing Algerian independence movements. An early work by Marker and Resnais, both of whom were associated with the Left Bank Group in the 1950s and 1960s, this film is a testament to the filmmakers' remarkable experimentation with aesthetic form and to their ardent sociopolitical commitments.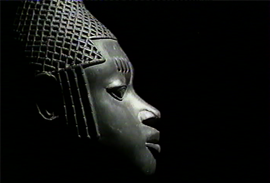 Chris Marker
Chris Marker, born in 1921 in Neuilly-sur-Seine, was a French writer, photographer, and documentary filmmaker. He studied philosophy with Jean-Paul Sartre in Paris and participated in the French resistance during the Second World War. Following the war, he began to work as a scriptwriter and director, and documented his travels through socialist countries in various books and films, such as ¡Cuba Sí! (1963). His film works also include classics such as La Jetée (1962), Sans Soleil (1983) and Twelve Monkeys (1995).
Alain Resnais
Alain Resnais, born in 1922 in Vannes, was a French director and film editor. Between 1936 and 2006, he filmed a total of 47 films. His best-known works include Hiroshima, mon amour (1959), L'Année dernière à Marienbad (1961) and Muriel, ou le Temps d'un retour (1963). For his body of work, Resnais received the Golden Lion at the Venice International Film Festival in 1995 as well as the Berlinale Silver Bear in 1998.