DOKU.ARTS
Zeughauskino Berlin
10.09.–12.10.2014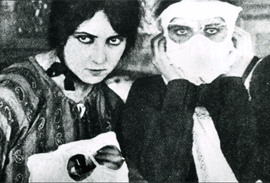 Musidora, la dixième muse
Anyone who has any fondness for French silent cinema recalls with pleasure a serial made by Louis Feuillade in 1915 called Les Vampires, which featured a mysterious female
cat burglar clad in a black silk body­ stocking and going by the name of Irma Vep (anagram for "vampire"). The actress who played her, soon to become famous, was Musidora, friend of Collette, and up until that moment a rising star of the music hall. The life
of the actress, and her influence on her contemporaries, is the subject of a delightful new documentary by Patrick Cazals. Born Jeanne Roque in 1889, Musidora was brought up in a liberal and free­thinking French household that encouraged her to behave independently. Blessed with fine looks, there was something charming, easy­ going and bohemian about her that made her an icon to her contemporaries. She exuded a sort of fearlessness that belongs to that time and to the history of feminism. As well as acting in the films of others, she began in the early 1920s to write and direct her own scripts – one of the few women of the epoch to do so. On the whole it is a happy story, which took in along the way a life­long love affair with the landscape and traditions of Spain. It is true that in the thirties, with the coming of the talkies, Musidora's star waned somewhat, but by way of compensation she took up poetry and play-­writing with characteristic vigour, and in her old age became a valued film historian, assisting Henri Langlois at the Cinémathéque Française in keeping alive the heritage of French silent cinema. Grandchildren and great nieces are alive today and Cazals has inter­ viewed them with great delicacy and penetration. This is a film of rich textures, fine voices and lovingly ­invoked interiors. It conjures up a lost golden age.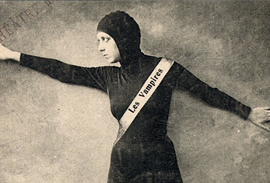 Patrick Cazals
Patrick Cazals studied film and philosophy in Paris and has filmed nearly 50 documentaries since 1976. In 1987, he founded the Les Films du Horla production company and since then has dedicated himself to his portraits of artists. His films include Sergueï Paradjanov (1988), Doisneau in Towns, Doisneau in Fields (1993), Bohumil Hrabal (1995), Amrita Sher-Gil, an Indian Rhapsody (2002), Sartre and de Beauvoir Tribulations to Caucasus (2003), Arthur Rimbaud, Cyprus Poste restante (2006) and Rouben Mamoulian, The Golden Age of Broadway and Hollywood (2006).