DOKU.ARTS
Zeughauskino Berlin
19.09.–14.10.2012
O Nervo de Prata, As Férias do Investigador, Derrapagem no Éden, Um Olhar em Segredo
The unusual and paradoxical universe of artist Tunga is seen through his own sculptures, mixing archaic emotions and a light "high-tech" feeling. The spectator is thrown into a tunnel without beginning or end, where extremely unusual scenes take place, involving characters such as Siamese twins tied by the hair and braided snakes.
Installations by artist Cildo Meireles are disassembled so that their elements can be reused in the video for an original creation. Questions referring to art, photography, money and velocity appear and disappear, leaving no traces or explanations. Art is treated as a kind of skidding, an accident happening faster than the possibility of dealing with it. When an investigator goes on vacation, anything can happen. The world becomes a territory of enigmas. Sculptures and installations by artist Milton Machado are creatively re-enacted by the no-holds-barred camera of Arthur Omar, amplifying the artist's strange logic to the extreme. The video travels to the clouds, visits factories, takes an airplane and penetrates the eye of a mysterious drummer who plays among Greek statues.
In the Film essay, Um Olhar em Segredo, the viewer is presented with different aspects of photographic perception as an escalating experience. Composed of little fragments which are dedicated to "photography, camera, the spur of the moment and ecstasy", the author introduces some of his ideas about photography and memory. Shot in Afghanistan, Cuba and Brazil.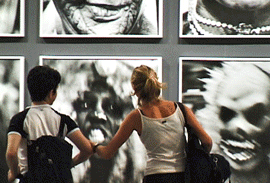 Arthur Omar
Arthur Omar is one of the most eclectic artists and experimental filmmakers in Brazil. Since the 1970s he has developed new methods of visual anthropology in his documentaries, photography, texts and video installations. The New York Museum of Modern Art held a retrospective dedicated to his films and videos in 1999. Arthur Omar participated twice at the Biennale in São Paulo. His film Triste Trópico (1974) is considered to be one of the classics of Brazilian cinema. Omar has published several books about photography and theory, among them Antropologia da Face gloriosa (1997), O Esplendor dos Contrários (2002) and Viagem ao Afeganistão (2010, with a foreword by Antonio Negri).