DOKU.ARTS
Zeughauskino Berlin
19.09.–14.10.2012
We hope to be back in 2022!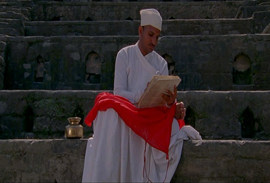 Nainsukh
The director Amit Dutta, born in 1977, is considered one of the most important experimental Indian filmmakers, whose films are regularly screened at film festivals such as Venice. Dutta's latest film Nainsukh reconstructs vivid scenes from the life of the north Indian painter Nainsukh (1710–1778) by emulating 42 miniature paintings with amateur actors and a professional miniature painter in the leading role at original settings. In majestic, cinematic images the film explains the motives, work process, landscape and life situation from which the paintings of the artist emerged. An extraordinary, tranquil and elegant film, whose poetic rhythm of images evade a capturing force. Far from fashionable re-enactments and beyond mouldy tableau vivants, the film doesn't rely on ethnic elements, instead balancing delicately between documental approach and playful plot, while developing its own visual language by interpreting as well as questioning Indian art history and one of its greatest artists.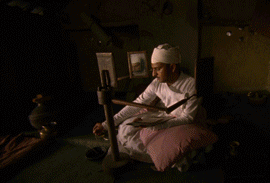 Amit Dutta
Born in India in 1977, Amit Dutta attended a course at the Film and Television Institute of India and is now regarded as one of the most successful experimental filmmakers in his country. He won the FIPRESCI Award in 2007 for his short film Kramasha at the Oberhausen short film festival. His first feature film The Man's Woman and Other Stories won the Jury's Special Mention Prize at the Venice Film Festival in 2009. With art collector Dr. Eberhard Fischer he developed the documentary Nainsukh. From 1973 to 1998, Fischer was the director of the Rietberg Museum in Zurich, which is the sole art museum for non-European cultures in Switzerland.