DOKU.ARTS
Zeughauskino Berlin
19.09.–14.10.2012
We hope to be back in 2022!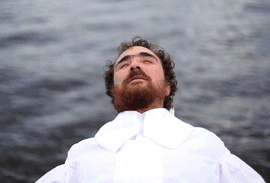 Ex-isto
"What if René Descartes would have accompanied Moritz von Nassau, the colonist and supporter of natural science, to Brazil?" This question is the topic of the newest film by the Brazilian filmmaker and artist Cao Guimarães. Based on the novel Catatau (1975) by Paulo Leminski, a poet and translator of Polish-African descent who has achieved iconic status in Brazil, we follow one of the prime fathers of modern European philosophy to the Amazon where he launches his research investigating matters of geometry and optics under the influence of hallucinogenic herbs. Ex-isto is a meditation on what art, science and the human body can evoke under a tropical influence. An atmospherically dense and visually impressive mixture of philosophy and poetry filmed in long takes, presented through imagistic tableaus and starring the brilliant actor João Miguel in the role of the philosopher. It is an extraordinary, transparent composition between fiction and documentation of an actor in historic costume, who drifts through the rural and urban landscapes of Brazil. "The book Catatau portrays the misapprehension of Cartesian logic in the heat, a badge for the failure of the Batavian project in the tropics." (Paulo Leminski)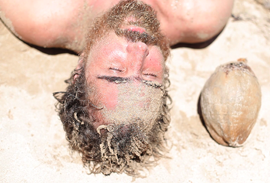 Cao Guimarães
Cao Guimarães, filmmaker and visual artist, was born in 1965 in Belo Horizonte, Brazil, where he lives and works. His work has been exhibited at various museums and galleries such as Tate Modern, Guggenheim Museum, MOMA, Gasworks, Frankfurter Kunstverein, Studio Guenzano, Galeria La Caja Negra and Galeria Nara Roesler. He participated at the XXV and XXVII São Paulo International Art Biennials and his films have been screened at many film festivals, such as Locarno, Venice, Sundance, Cannes and Rotterdam.