DOKU.ARTS
Zeughauskino Berlin
19.09.–14.10.2012
We hope to be back in 2022!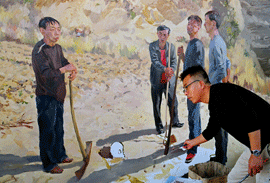 Gin Chen Xiao Ze
In his first feature-length documentary the young director Yao Hung-I accompanies the renowned Chinese painter Liu Xiao-Dong (known from films by Wang Xiaoshuai and Jia Zhangke) as he travels back to his hometown Jincheng in the province of Liaoning in rural China. 30 years after he has left Jincheng at the age of 17, Liu Xiao-Dong wants to capture the changes in his hometown and paint his former acquaintances and friends. "To come home is very important for an artist. The hardest part of this documentary was to capture the moment when the pictures transform into something essential. Since I am from Taiwan and don't know the life and dialect of China, I felt like a child which gave the situation a fresh, light-hearted viewpoint." (Yao Hung-I)
The eye of the filmmaker sweeps between documentation of the artistic process and casually filmed observations of daily life in the Chinese province. Enhanced by splendid camera work, Hometown Boy is one of the most interesting films of this year's programme.
"Yao acts as the third eye of Liu Xiaodong, from a straightforward yet lighthearted viewpoint. The film Hometown Boy hopes to record this process from Liu Xiaodong's perspective as well as understand his art practice from this intimate distance." (Hou Hsiao-Hsien)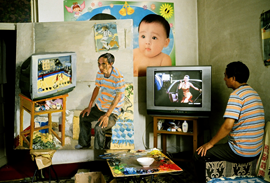 Yao Hung-I
Yao Hung-I has worked at 3H Productions since 1994, and has participated in many films by Hou Hsiao Hsien. He has worked as a director or cinema photographer on many short films and commercial films. His first feature film, Reflections (2005), was invited to numerous film festivals and won several prizes, including at the Buenos Aires International Film Festival. Hometown Boy is his first long documentary, which was awarded the Golden Horse Award (most important Taiwanese film prize).