DOKU.ARTS
Zeughauskino Berlin
19.09.–14.10.2012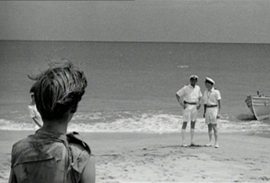 The Dreams of William Golding
Blowing up out of nowhere, last summer's riots in London serve to remind us of the central fragility of even the most advanced Western societies.
No writer understood this "abyss of primitivism" better than the outstanding British novelist William Golding. The writer's wartime experiences, first in naval combat and then as a witness to the liberation of the concentration camps, instilled in him a profound sense of man's capacity for evil. His first and best-known novel, Lord of the Flies (1954), which shows the descent into savagery of a party of British schoolboys abandoned on a desert island, has to date sold 40 million copies to date. But he was never an ideological nihilist: the world retained, for him, an irreducible beauty and strangeness, explored in a number of poetic and original novels written in the wake of his initial best-selling masterpiece. Socially, Golding was a loner, shunning publicity and living quietly with his wife and family in the peaceful English countryside. Nonetheless, excellent film footage of him survives from different sources, and out of this rich archive, director Adam Low, working for the BBC's Arena programme, has fashioned a fascinatingly nuanced portrait of a complex, touching and many-sided human being.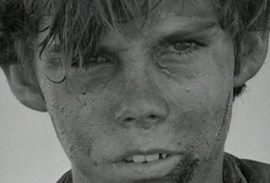 Adam Low
Adam Low lives in London, where he began his career as a documentary filmmaker with the BBC. He has directed documentaries for the BBC series' Writers and Places, Omnibus, Global Report and Arena, as well as portraits of major artists such as Akira Kurosawa, Luchino Visconti, V.S. Naipaul and Francis Bacon. From 1991 to 1997 he lived and worked as an independent producer and director in Cape Town. His work has received numerous awards, including the Prix Italia 2004 and the Grierson Award for his film about T.S. Eliot (2010).