DOKU.ARTS
Zeughauskino Berlin
19.09.–14.10.2012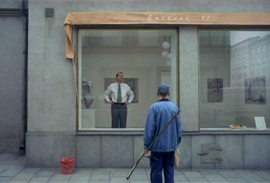 Det är en dag imorgon också
Roy Andersson is one of the most original contemporary directors in Swedish cinema, famous for his films Songs from the Second Floor (2000) and You, the Living (2007), among others.
The shooting of You, the Living took four years, in part at his own "family film studio" in Stockholm. Roy Andersson's work process is unique. The construction principle of his film sets is based on the method of trompe l'oeil, a special technique for producing optical illusions. Previously a director of advertisements, he dispenses with special effects entirely. Everything is built and tried out by his own closely knit team at Studio 24. The filmmakers Johan Carlsson and Pehr Arte, both of whom have been part of Andersson's team for years, follow the story of making You, the Living, which premiered at Cannes in 2007.
Three years later, this documentary film was ready, having been presented first as a work in progress at DOKU.ARTS in 2008. Carlsson and Arte tell the story of Roy Andersson's team spirit, love for cinema, and working method from their intimate perspective. It is a rare document that brilliantly illustrates the humor and humanity of cinema as a challenge of both art and labor.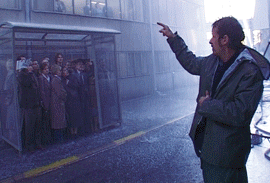 Johan Carlsson, Pehr Arte
Johann Carlsson was born in Umeå, Sweden and has worked as Production Manager, Assistant Director and Director for the last 15 years. He has worked with corporate and commercial films and has directed his own short films. He worked as Production Manager on the film You, the Living by Roy Andersson. Pehr Arte was born 1962 in Ängelholm, Sweden. Since 1984 he has directed and produced commercials, corporate films, short films, music videos and documentaries with his production company, Seven Frames. Tomorrow is Another Day is Johann Carlsson's and Pehr Arte's first long documentary, which DOKU.ARTS has presented in different temporary rough cuts at In Progress in 2008.